This is the best gluten free banana bread recipe you will ever make. It's only made with healthy ingredients, non dairy and made with Reyhani basmati rice. Topped is this goodness with a yummy peanut butter chocolate swirl. You can make it in your blender and it's ready for the oven in about 10 minutes.
You already know that Antonia and I like to support local businesses and farmers. And we proudly support Reyhani! Reyhani is a small family business in our hometown Graz and the people there love what they do! Their passion is rice. But its not an ordinary rice! The people at Reyhani focus on organic and fair-trade certified rice which means that their rice is free of harmful substances and pollution and that the people working on the rice fields get the chance to work under positive and humanely conditions and get fairly payed for what they do.
Organic. Fair Trade. Environment friendly.
Reyhani focuses to obtain rice from the best growing areas around the world, where the environment is perfect and non polluted and no conventional harvested rice crops are adjoined.
Did you know that their basmati rice gets the nutty unique flavour because the best growing area for basmati rice is on the Himalaya? I love that Reyhani shows so much passion and love for their products and the people working on these rice fields for them. The wrapping is made of paper and therefore environment friendly. That is what we love about a business. They think about the future and how they can contribute to make this world a better place.
Banana rice Bread.
I know it sounds a little bit crazy but this banana bread is awesome and if you wouldn't know what ingredients I used you would never guess that it's gluten free and made with rice.
This recipe was developed after Reyhani wrote us their first email. I loved the idea to invent something with rice. But I knew from the beginning that I didn't want to do some ordinary bowl which is so popular at the moment. Anybody can do a rice bowl but only experimentalists can set the kitchen on fire and develop awesomeness from scratch 😉 .
Easy and fast that's the way we do gluten free banana bread.
I'm totally in love with recipes made in a blender and you are lucky this IS one for the blender.
Before I start with the recipe I give my cashews(70g) and 6 dates a hot bath for about 10 minutes.
ThenI blend my beautiful delicious basmati rice(120g) until very fine almost like flour. The finer the better.
After blending the rice I add the :
soaked cashews and dates
2 eggs at room temperature
120g coconut yoghurt or any other yoghurt
ground almond meal (70g)
2 tablespoons coconut oil
2 very ripe bananas
1 teaspoon ground cinnamon
1 pinch of salt
Blend on high for about 5-7 minutes or until its a very homogenous batter. I add the 2 teaspoons of baking powder and blend for another 10-20 seconds.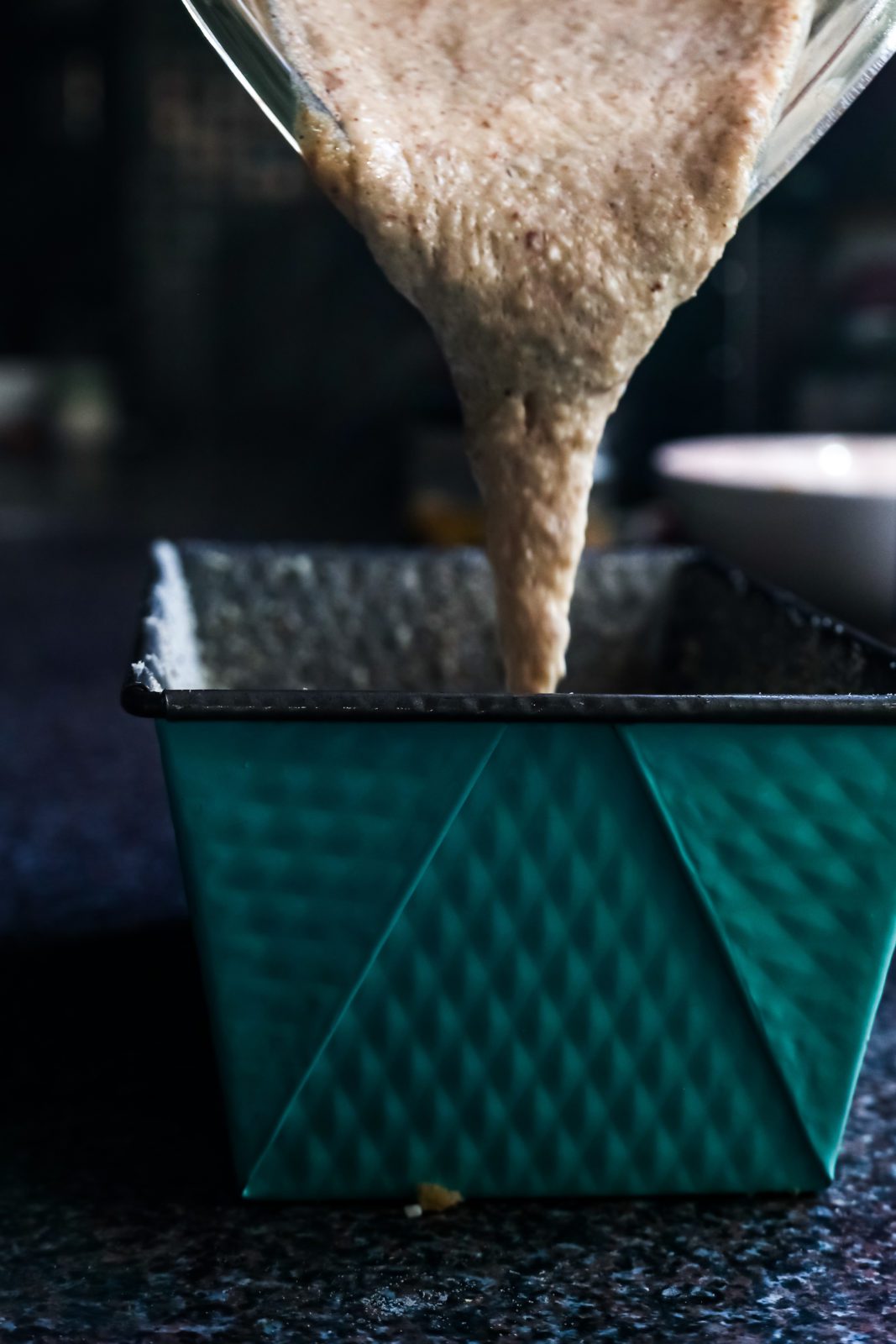 Peanut butter chocolate swirl.
For the swirl:
pour 1/3 of the basmati rice batter in a small bowl and stir it together with 2 teaspoons of creamy peanut butter, 2 tablespoons of unsweetened cocoa powder and 50ml almond milk.
Make me ready for the oven.
Preheat the oven to 180° Celsius and prepare a loaf pan with coconut oil and sprinkle it with almond meal. Alternately pour the light batter and chocolate batter into the loaf pan and swirl the batter with a wooden stick or a small thin knife.
Decorate the banana rice bread with 1 banana as you like and sprinkle the top with coconut sugar. Bake this delicious goodness for about 45 minutes or until a wooden tooth pick comes out clean.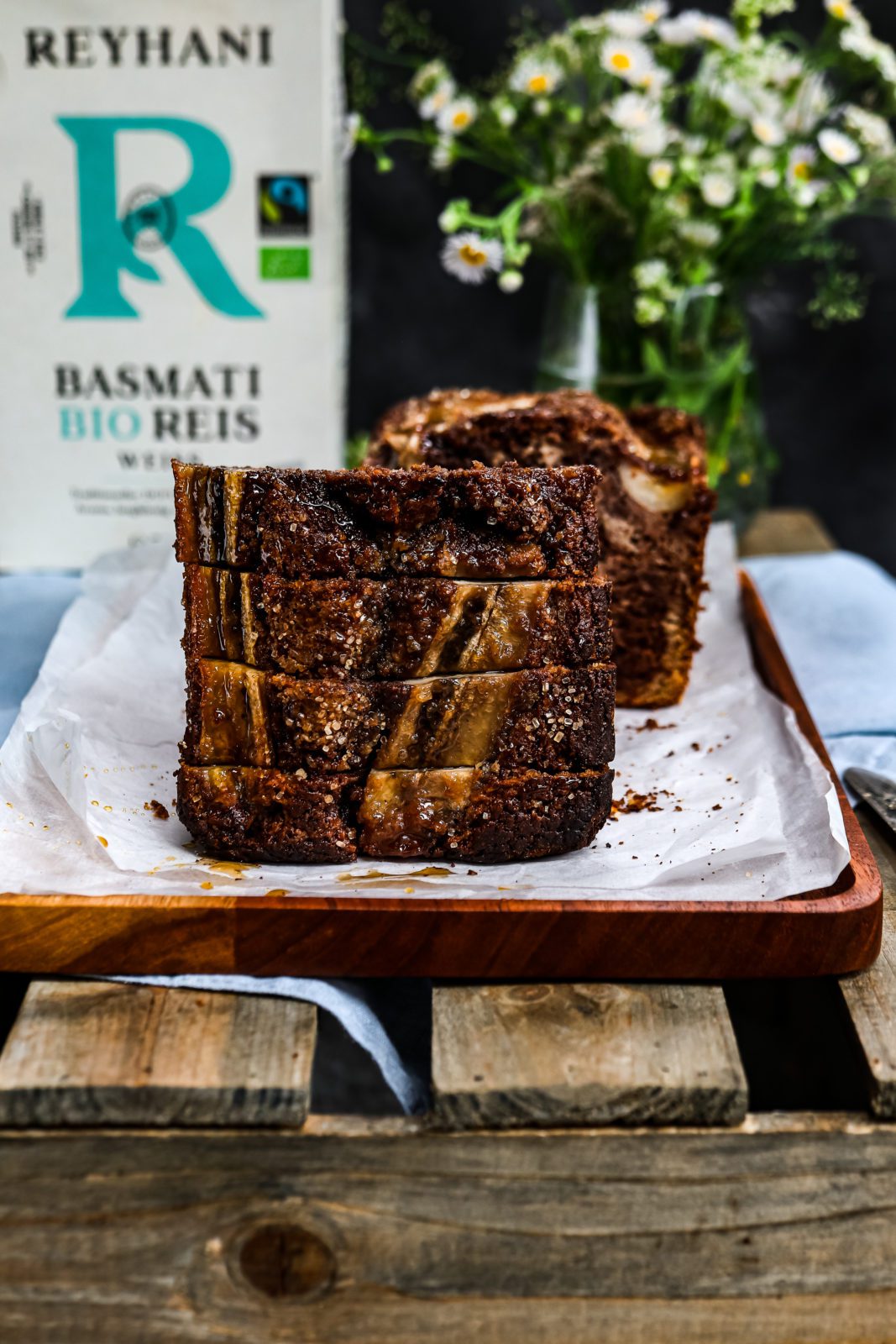 After the gluten free banana bread is almost cooled drizzle it with some honey, lean back and enjoy it with your loved ones!
This is one of my families favourite recipes at the moment and I know that you will love it as much as they do!
If you try this banana bread, be sure to leave a comment and rate it below and let me know how you liked it. And of course, don't forget to snap a photo and tag #twosisterslivinglife on Instagram so we can see your beautiful creations.
Sticky hugs and kisses
Nina
You may also like our healthy coconut chocolate chia pudding pods.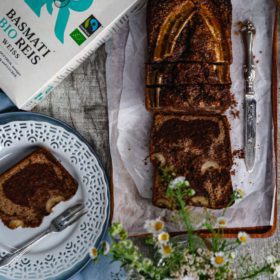 Glutenfree banana bread with basmati rice and chocolate peanut butter swirl
Are you looking for a delicious gluten free banana bread recipe? Than this is the right recipe for you. It's made with basmati rice, nuts and sweetened with dates and a chocolatey peanut butter swirl to make things interesting.

Print Pin Rate

Servings: 8

Calories: 285kcal
Ingredients
120 g basmati rice
70 g ground almonds
70 g cashews
5 dates pitted
2 eggs large
3 bananas ripe, 2 for the cake and 1 for decoration
2 tbsp coconut oil
1/2 tsp ground cinnamon
1/4 tsp salt
100 g coconut yoghurt
2 tsp baking powder
1 tbsp brown sugar for the topping
Peanut butter Swirl
2 tbsp peanut butter
50 ml almond milk
15 g unsweetened cocoa powder
Instructions
Banana bread
First soak the cashews and the dates in hot water for 10 minutes and strain after that.oil a loaf pan and sprinkle it with ground almond meal.Pour the rice into a blender and blend until finely ground.Add the soaked and drained dates and cashews, 2 bananas, ground almonds, eggs, coconut oil, coconut yoghurt and cinnamon and blend until everything is a homogenous batter.Add the baking powder and blend for another 10 seconds.Pour 1/3 of the batter into a separate bowl for the swirl.
peanut butter swirl
Heat the peanut butter and almond milk for 30 seconds.mix peanut butter and almond with a spoon together until runny.Add 1/3 of the batter and the cocoa powder and mix everything together with a spoon.
Putting everything together
Preheat the oven to 180° Celsius or 360° FahrenheitAlterantely pour the banana bread batter and the peanut swirl into the prepared form and make sure to top it with the swirl.Swirl through the batter with a wooden stick and decorate the top with the third banana and sprinkle with brown sugar.Bake for 45 minutes or until a tooth pick comes out clean.
Nutrition
Calories: 285kcal | Carbohydrates: 34g | Protein: 8g | Fat: 15g | Saturated Fat: 5g | Cholesterol: 41mg | Sodium: 119mg | Potassium: 458mg | Fiber: 4g | Sugar: 11g | Vitamin A: 90IU | Vitamin C: 3.9mg | Calcium: 103mg | Iron: 1.8mg
Please follow and like us: