…or Simply Cheesecake in an Iron Pan 😉
This is an easy and delicious recipe for a healthy low carb blueberry cheesecake. Its gluten free, high protein and baked in an iron pan
I really like Skyr yoghurt. I don't know if you know this special kind of yoghurt . It is very creamy and rich in tasting. Its similar to a low fat yoghurt but is high in proteins and has a creamier consistency similarly to cream cheese. Its perfect for a pursuit on a healthy lifestyle and above all it tastes delicious.
No, I don't get paid for saying these praises 😉 . I just really like that food and since its similar in consistency to cream cheese its a perfect healthy substitution . But if you don't have Skyr you can always use low fat greek yoghurt.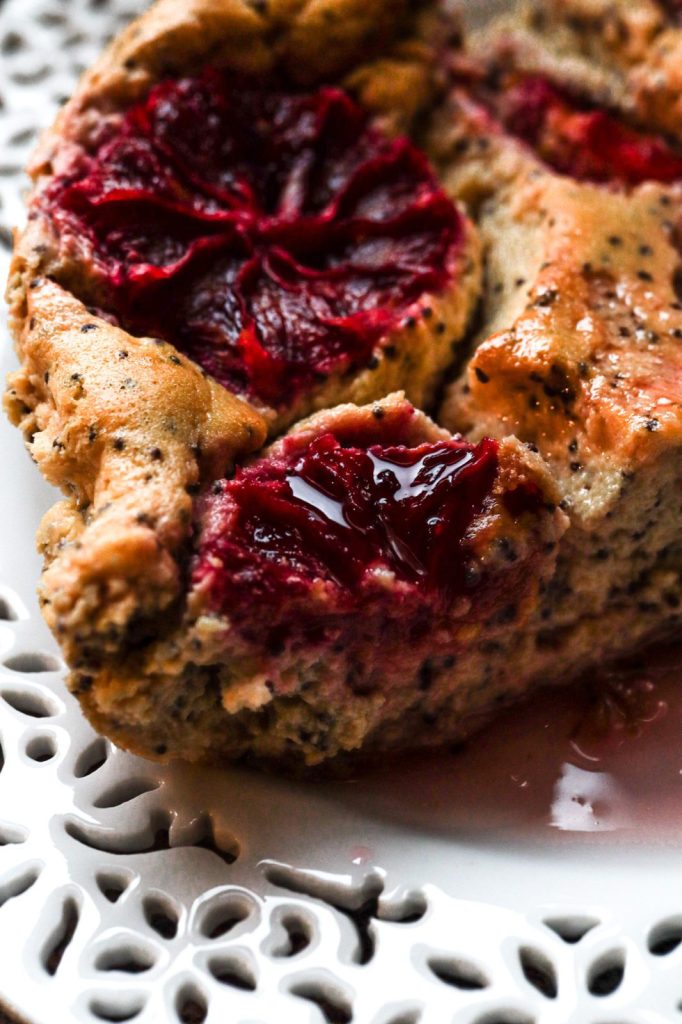 How did I develop this great recipe?
Since I'm trying to loose some weight but always had a sweet tooth, I was experimenting with Skyr and eggs. At the beginning I only wanted to create a mug cake recipe, which I could eat as a breakfast or sweet healthy treat. Therefore it should be easy and fast and should be whipped up in a whim. Long story short I always had to much batter for one mug and as a result ended up pouring the batter into an iron pan because it was the only thing at hand 🙂 .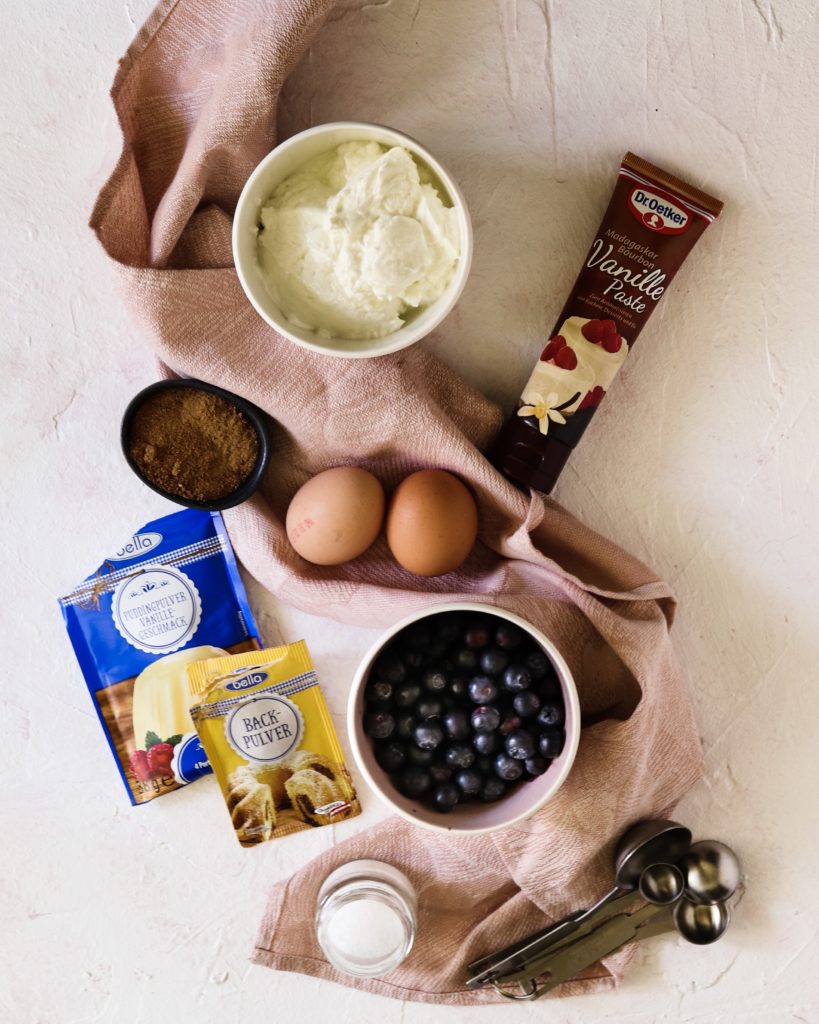 Since I wanted to give this healthy dish a very airy and fluffy texture I separated the eggs and beaten the egg whites with a pinch of salt until stiff peaks formed.
Healthy low carb cheesecake and where to start?
Prepare the iron pan with baking sheet and preheat the oven to 310 F° or 160 C°.
First we separate the eggs. As already said, we beat the egg whites until stiff peaks form and put aside.
In a medium bowl beat the egg yolks, the Skyr yoghurt (or low-fat greek yoghurt, or if you want it to be lactose free a vegan one), coconut sugar, orange peels and vanilla extract until smooth – about 2-3 minutes.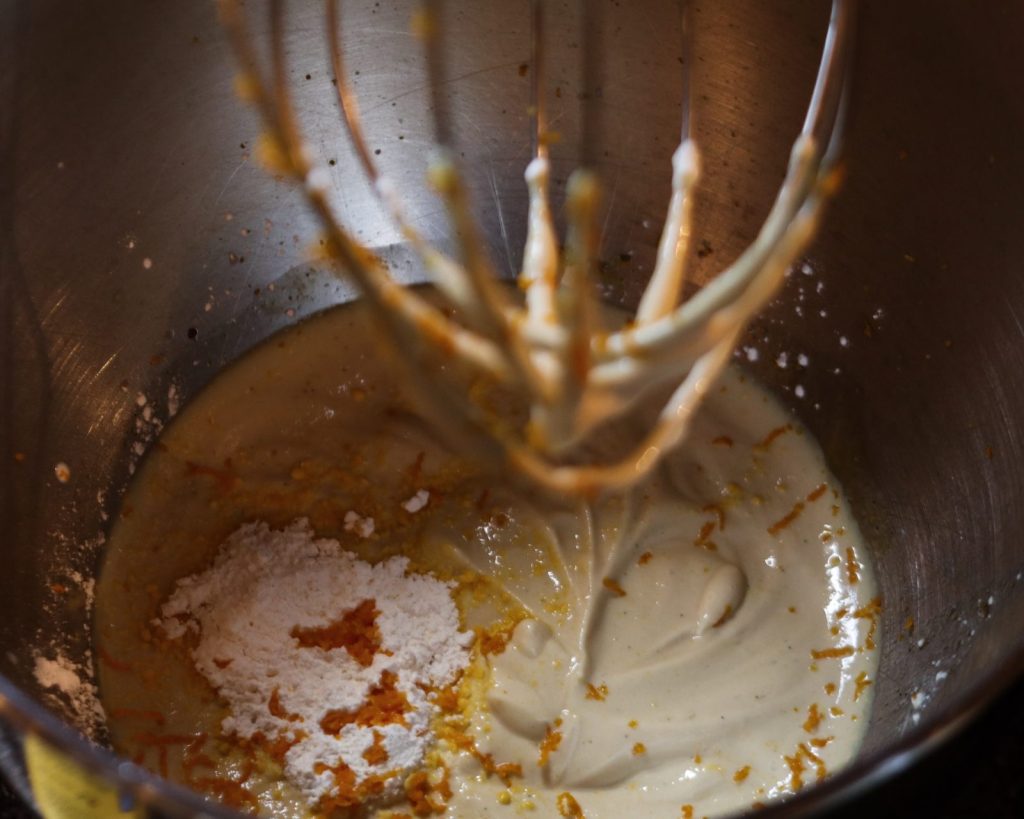 When everything is smooth as on the picture above, add the baking powder and the vanilla pudding powder. The vanilla pudding makes everything more creamy while binding unnecessarily liquid from the blueberries and the yoghurt.
Fold in the beaten egg whites and finally the blueberries. Gently fold the blueberries in. Above all don't over mix the blueberries. Just fold them in 1-2 times. There should be a nice marbled effect in the dough.
Finally pour the batter into the iron pan and bake everything for about 45 minutes. The surface of the cheesecake should only be slightly wobbly. If you thing the mass is not stocked enough bake it another 5 minutes.
Take the iron pan out of the oven and let everything cool.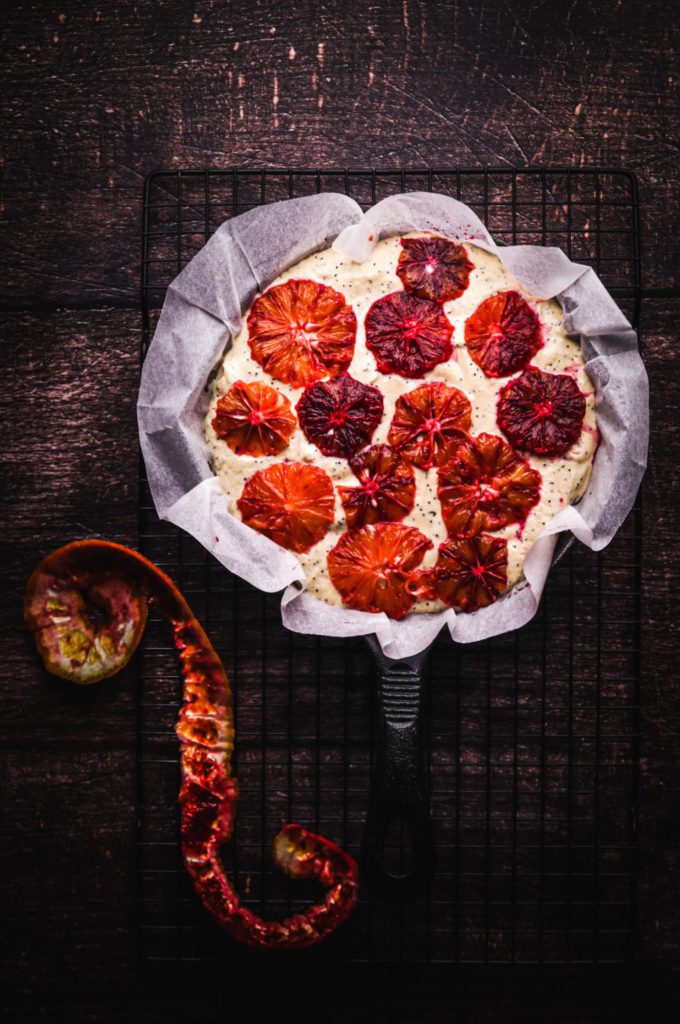 Variations:
You can make this healthy low carb – high protein cheesecake with any fruit you like. I already made it with blood oranges, raspberries and apples and it turned out great every single time.
You can add 2 tablespoons of poppyseeds to the batter for an extra flavour. The poppyseeds go very well with the blood oranges.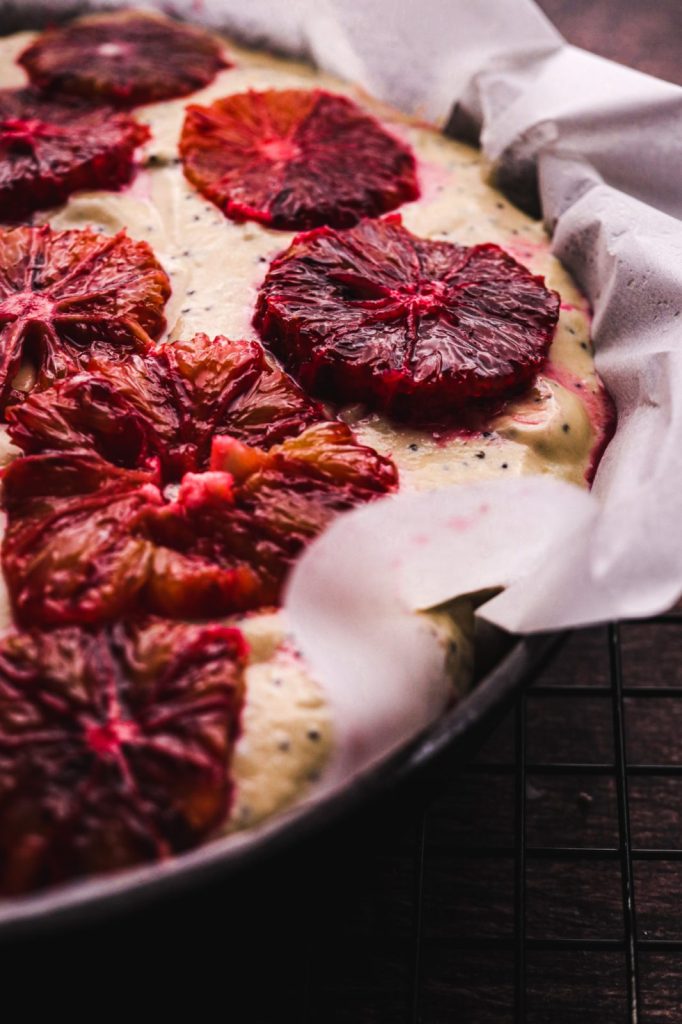 I hope you enjoyed my journey from a single mug cake to a healthy and easy cheesecake in an iron pan 🙂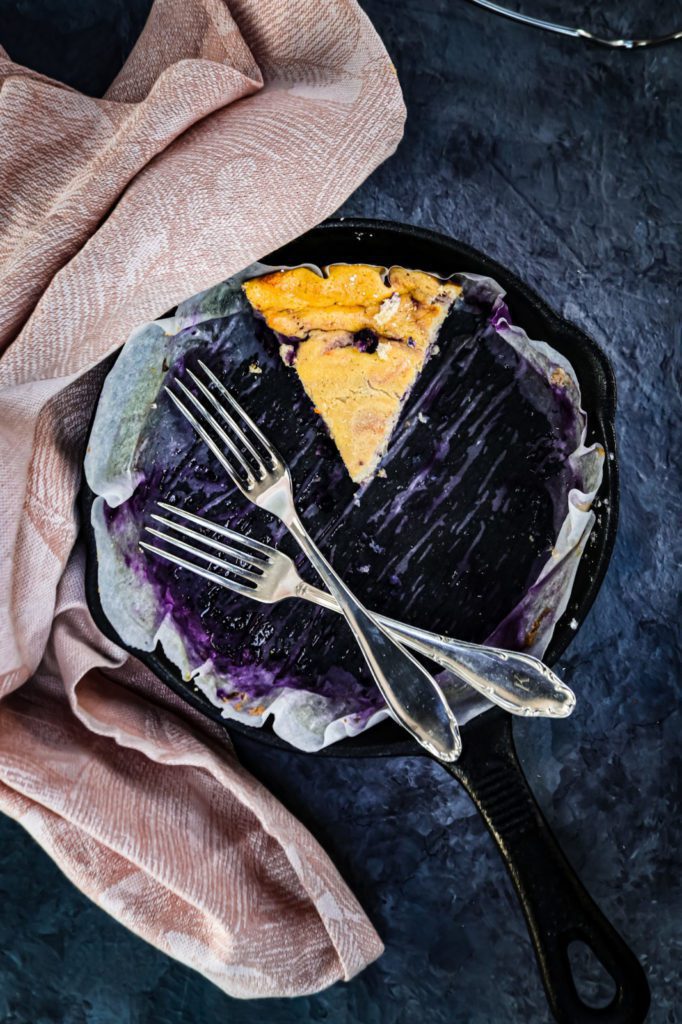 We'd love to know what you thought about our recipes. Leave us a comment and tag us on social media @twosisterslivinglife . We'd love to hear from you and how our recipe worked out.
Love Nina
You may also like our Recipe for a Healthy Banana Bread.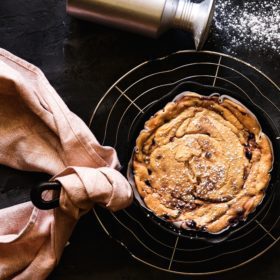 Easy healthy and gluten free blueberry cheesecake in an iron pan
This is a healthy approach on a delicious classic dessert. It's easy to prepare and needs only 7 ingredients.

Print Pin Rate

Prep Time: 10 minutes

Cook Time: 40 minutes

Total Time: 50 minutes

Servings: 6

Calories: 109kcal
Ingredients
2 eggs separated
pinch salt
3 tbsp coconut sugar or honey or maple syrup
300g Skyr yoghurt or low fat greek yoghurt or lactose free yoghurt
150g blueberries fresh or thawed
1 tsp vanilla flavour
1/2 tsp baking powder
1 tbsp vanilla pudding powder
1 tsp orange peels
Instructions
Prepare an iron pan with baking sheetPreheat oven to 310F° or 160C^In a medium bowl beat the egg whites with a pinch of salt until stiff peaks form, set asideIn a bowl of a stand mixer mix together egg yolks, yoghurt of your choice, coconut sugar, vanilla flavour, and orange peels together until smooth, about 2-3 minutesAdd the baking powder and vanilla pudding powder, mix until corporate about 30 secondsCarefully fold in the stiff egg whites into the egg yolk yoghurt massMix the blueberries carefully into the dough in two short strokes.Pour everything into the prepared pan and bake about 45 minutes or until the surface of the cake is slightly wobblyEnjoy
Nutrition
Calories: 109kcal | Carbohydrates: 14g | Protein: 7g | Fat: 2g | Saturated Fat: 1g | Cholesterol: 57mg | Sodium: 159mg | Potassium: 87mg | Sugar: 9g | Vitamin A: 125IU | Vitamin C: 3.6mg | Calcium: 87mg | Iron: 0.4mg
Please follow and like us: