Leckeres Nussecken Rezept in 2 Geschmacksrichtungen
Jump to Recipe available in English and German
This is my favorite CHRISTMAS COOKIE recipe ever. a crispy shortcrust base topped with fruity apricot jam, a sweet nutty filling and the ends are dipped in a shiny dark chocolate glaze. You can variate the flavor in combining different nuts. This recipe incudes the flavors walnut/hazelnut and almond/pumpkin seeds. These cookies are easy and quick to make.
Christmas season is my favorite time of the. It all starts with decorating the house with lots of Christmas lights a couple of days after the All Saints /All Souls Days. I start reading Christmas stories to my kids. And at last we start baking Christmas cookies come the first Advent Sunday. Its our very own tradition that I started with my little sister Antonia when she was a kid. <3 <3 <3
Nutty Triangels- things I love about this classic Austrian CHRISTMAS COOKIE recipe.
First of all I love the combination of different flavors. Nuts, the fruity flavor of the apricot jam, dark chocolate.
It's an easy recipe. The most difficult steps about this CHRISTMAS COOKIE recipe is fitting the dough evenly into the baking tray, cutting the cookies. No biggie at all right?!? ?
You get 80 cookies in a short time. Thats the most amazing thing ever. Its almost as quick as simple cut out cookies.
You can variate the flavors in using different kind of Nuts, differently flavored jams or different kind of chocolates for the glaze.
Lastly they taste sooooooo good and can be kept up to 3 weeks when stored in a cool place.
Nutty triangles – the most important steps about this cookie recipe
Spread the dough evenly onto the baking tray. I'm using a knife to get even edges.
Let the filling cool completely. It should only be slightly warm to the touch.
Cut he cookies when its still warm a little bit. The best way to cut the dough into triangles is to lay the sheet on the kitchen counter . Its difficult to cut it when its still in the baking tray.
The jam has to be without fruit pieces. A fine sieved one.
The glaze: don't leave the crumps in it. Take them out before you dip the next cookie corners into it. Otherwise you won't be able to dip all cookies into it .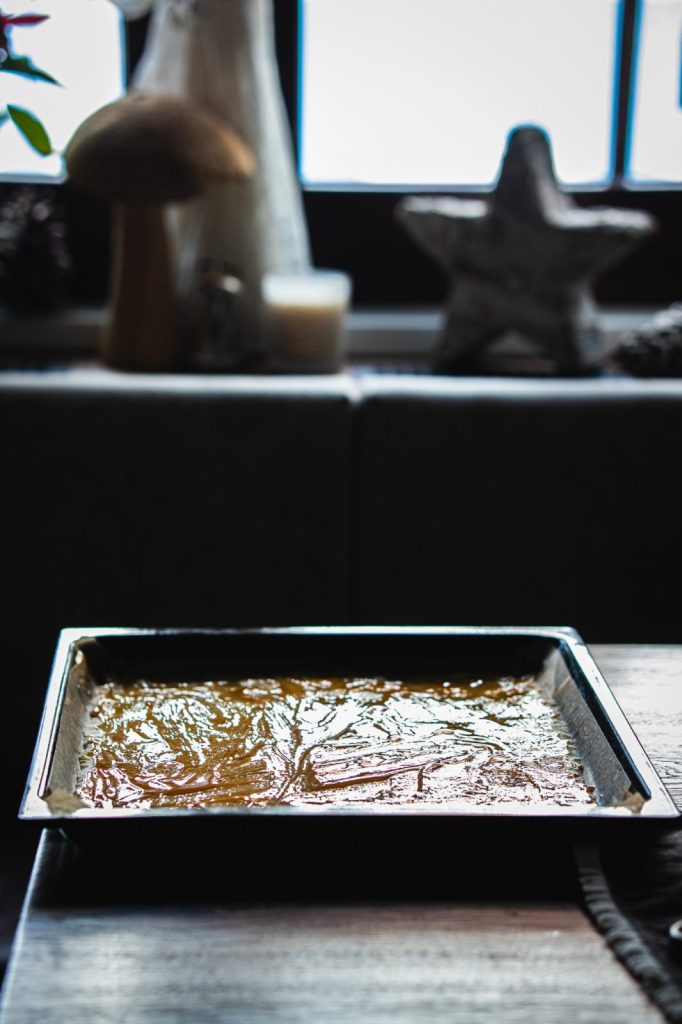 At Last….
You can variate the flavor of the recipe in combining different nuts. My 2 favorite flavor Combos are:
Ground walnuts & chopped hazelnuts
Ground almonds & chopped pumpkin seeds
Another great way to change the flavor is in using another jam. I thing of orange jam or black current jam.
Chocolate glaze. If you don't like the not so sweet taste of dark chocolate, try milk chocolate or white chocolate.
These "Nussecken" – Nutty triangles are perfect as a homemade gift. everybody loves cookies especially when they are as good and as unique as these. Promised you will be loved beyond measure , especially from your family of course ?. One last tip: put some fitted baking paper between the layers of cookies if you stack them into the cookie box. They are best enjoyed cold right out of the fridge at least thats the way I like them best. When I can still hear the chocolate cover break when biting into it❤️.
If you make these amazing cookies and you fall in love with all the flavors immediately, please say "Hi" and leave me some kind words and a 5 star rating ?. Don't forget to tag us on Instagram. What I love the most, is hearing from you.
Sweet cookie hugs
Nina
Are you looking for more delicious cookie recipes? Maybe you'll find some more CHRISTMAS COOKIE recipes you'll fall in love with.❤️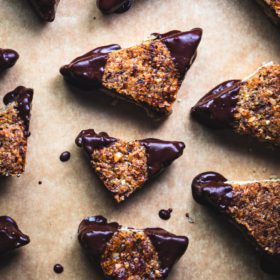 Easy nutty triangles – a classic Austrian Christmas cookie recipe
This is my favorite CHRISTMAS COOKIE recipe ever. A crispy shortcrust base topped with apricot jam and a sweet nutty filling and the ends are dipped in dark chocolate. Sooo good. You can variate the flavor in combining different nuts for a different flavor. This recipe includes the flavors walnut-hazelnut and almond-pumpkin seeds. These cookies are easy and fast to make.
Print
Pin
Rate
Ingredients
Dough
450

g

all purpose flour

2

tsp

baking powder

150

g

white sugar

1

tbsp

vanilla sugar

1

pinch

salt

1

egg

large, room temperature

280

g

butter

cold , cut into cubes

1.5

tbsp

water

cold

8

tbsp

apricot jam
Filling
300

g

butter

150

g

brown sugar

120

g

white sugar

2

tbsp

vanilla sugar

6

tbsp

water

300

g

walnuts

coarsed, but no walnut flour

300

g

hazelnuts

roasted, and chopped
Chocolate glaze
300

g

dark chocolate

160

g

butter
Instructions
Dough
In a bowl of a stand mixer mix together all dry ingredients .

Add the butter and mix everything with the paddle attachment until the butter is incorporated into the dry ingredients . the butter and dry ingredients will look like a finely flaky mixture.

Add the other ingredients and mix until it almost comes together as a dough.

Knead everything into a dough with your hands, form into a disk, wrap plastic foil around it and petit rest in the fridge for about 30minutes .

Prepare a baking tray with baking paper.

Roll out the dough and fit it on the baking tray.

Smear 4tbsp of apricot jam onto the rolled out dough.

Pour the filling onto the dough and spread it evenly.

Smear the rest of the apricot jam on top with a kitchen brush.

Preheat the oven to 200degrees Celsius (390F) top- and bottom heat.

Bake the tray for about 15-20 minutes onto the bottom third of the oven.

Take out the tray and let it cool until only warm to the touch.

Cut into 5×5 squares and part those squares in 2 again diagonally .

Dip the 2 long ends of the triangles into the chocolate glaze and let them cool completely before storing them in cookie boxes.

The cookies are best stored in the fridge . If you stack the cookies put some baking paper between the layers.

The cookies can be kept in the fridge up to 3 weeks.

Enjoy and have a lovely Christmas Time with your family.❤️
Filling
In a medium sized heavy bottom pan bring to a boil butter, the sugars, and water under constant whisking .

When everything is a homogenous liquid mass turn off the heat and add the ground walnuts and chopped hazelnuts. let cool completely.
Chocolate glaze
MELT chopped chocolate and butter over a double boiler, or slowly in the microwave, being sure not to overheat.

after the chocolate is melted and mixed together with the butter into a shiny glaze start dipping the ends of the triangles into it. if the cookies crumble a little bit take out those crumbs from the glaze before dipping in the next cookie.
Notes
Another delicious flavor alternative is using ground almonds and fine chopped pumpkin seeds together instead of walnuts and hazelnuts. 
You can put both flavors on 1 baking tray too just use for every flavor half the ingredients amount.
this means :
Filling 1
150g Butter, 75g sugar, 75g brown sugar, 1 tbsp vanilla sugar, 3 tbsp water, 150g ground walnuts, 150g finely chopped hazelnuts
filling 2
150g Butter, 75g sugar, 75g brown sugar, 1 tbsp vanilla sugar, 3 tbsp water, 150g ground almonds, 150g finely chopped pumpkin seeds
Nutrition
Calories:
171
kcal
|
Carbohydrates:
13
g
|
Protein:
2
g
|
Fat:
13
g
|
Saturated Fat:
5
g
|
Polyunsaturated Fat:
2
g
|
Monounsaturated Fat:
4
g
|
Trans Fat:
1
g
|
Cholesterol:
20
mg
|
Sodium:
64
mg
|
Potassium:
82
mg
|
Fiber:
1
g
|
Sugar:
7
g
|
Vitamin A:
222
IU
|
Vitamin C:
1
mg
|
Calcium:
19
mg
|
Iron:
1
mg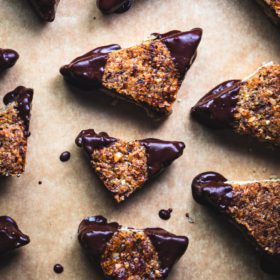 Nussecken- ein Weihnachtskekse Klassiker in 2 Geschmacksrichtungen
Nussecken sind Die Kekse die bei uns zu Weihnachten nie fehlen dürfen. Einerseits weil sie die besten Kekse der welt sind und andererseits sind sie super einfach zu machen, Hier bekommst ihr eine Schritt für Schritt Anleitung für leckere saftige Nussecken in 2 Variationen. Einmal Walnuss/Haselnuss oder Mandeln/Kürbiskerne. Für mich als Steirerin mit Kernöl in den Venen anstatt Blut ist die Kürbiskerne Variation der klare Favorit. Viel Spass beim Backen.
Print
Pin
Rate
Ingredients
Teig
450

g

Universalmehl

alternativ Glattes Mehl

2

tsp

Backpulver

150

g

Staubzucker

1

tbsp

Vanille Zucker

1

pinch

Salz

1

Ei

Large, Raumtemperatur

280

g

Butter

Kalt, in Würfel geschnitten

1.5

tbsp

Wasser

extra kalt

8

tbsp

Marillenmarmelade
Belag
300

g

Butter

150

g

Rohrzucker

120

g

Weißer Kristallzucker

2

tbsp

Vanille Zucker

6

tbsp

Wasser

300

g

Walnüsse

gemahlen, alternativ gemahlene Mandeln

300

g

Haselnüsse

medium fein gehackt/ alternativ gehackte Kürbiskerne
Schokoladenglasur
300

g

Zartbitter Kuvertüre

160

g

Butter
Instructions
Teig
Das mit Backpulver, Zucker und Salz, vermischte Mehl mit der Butter vertrödeln. Am Besten gelingt das mit einem Standmixer und dem Flachrühraufsatz.

Ei und Flüssigkeit hinzufügen und alles zu einem Teig zügig verkneten.

Den Teig zu einer Scheibe formen, in Frischhaltefolie einwickeln und für 30 Minuten im Kühlschrank rasten lassen.

Ein Backblech mit Backpapier auslegen.

Nach dem Rasten, den Teig zu einem Rechteck ausrollen ca 40cmx35cm und in das Backblech gleichmäßig reinkommen. Die Ecken mache ich glatt und ebenmässig mit Hilfe eines Messers.

Den Teig mit 4 Esslöffel Marmelade beschmieren.

Den ausgekühlten Belag gleichmäßig drauf verteilen.

Den Belag mit einer dünnen Schicht Marmelade bepinseln.

Den Ofen auf 200Grad Celsius Ober- und Unterhitze vorheizen.

Den Teig für 20 Minuten in unterem Backofendrittel backen.

Das Backblech aus dem Ofen nehmen und bis es lauwarm ist auskühlen lassen.

Nach dem Backen das etwas ausgekühlte Gebäck in 5cmx5cm Vierecke schneiden und diese dann diagonal teilen, so dass Dreiecke entstehen.

Die beiden spitzen Ecken in die Schokoladenglasur eintauchen und komplett auskühlen lassen auf Backpapier oder einem Glasurengitter.

Die Kekse halt sich sich kühl gelagert bis zu 3 Wochen in luftdichten Keksboxen. Wenn ihr Die Kekse übereinander stapelt zwischen drinnen mit Backpapier trennen.

Gutes gelingen und viel Spaß beim backen.❤️
Belag
Für den Belag Butter, Zuckernd Wasser zum Kochen bringen und die geriebenen und gehackten Nüsse daruntermengen.

Masse auskühlen lassen bevor sie auf den Mürbeteig Boden gestrichen wird.
Schokoladenglasur
Schokolade und Butter über Wasserdampf erweichen lassen und glattrühren. Ihr könnt Butter und Schokolade auch langsam und vorsichtig in Intervallen in der Mikrowelle schmelzen lassen.

Wenn die Schokolade und Butter zu einer glänzenden Glasur glatt gerührt ist die beiden langen Spitzen hinein dippen. Kekskrümel entfernen vor dem Dippen des nächsten Kekses.
Notes
Walnüsse mit Haselnüssen ist ein sehr leckerer Geschmack und auch das Originalrezept, aber wenn ihr was anderes möchtet probiert doch geriebene Mandeln mit gehackten Kürbiskernen. Soooo unglaublich gut. 
Ihr könnt den Boden auch in Beiden Geschmäckern belegen. Einfach mit den verschieden Nussorten jeweils eine halbe Masse herstellen.
Das ist dann so gemeint.
Belag 1
150g Butter, 75g Zucker, 75g Rohrzucker, 1 tbsp Vanillezucker, 3 Esslöffel Wasser, 150g gemahlene Walnüsse, 150g feiner gehackte Haselnusskerne
Belag
150g Butter, 75g Zucker, 75g Rohrzucker, 1 tbsp Vanillezucker, 3 Esslöffel Wasser, 150g gemahlene Mandeln, 150g feiner gehackte Kürbiskerne
Nutrition
Calories:
171
kcal
|
Carbohydrates:
13
g
|
Protein:
2
g
|
Fat:
13
g
|
Saturated Fat:
5
g
|
Polyunsaturated Fat:
2
g
|
Monounsaturated Fat:
4
g
|
Trans Fat:
1
g
|
Cholesterol:
20
mg
|
Sodium:
64
mg
|
Potassium:
82
mg
|
Fiber:
1
g
|
Sugar:
7
g
|
Vitamin A:
222
IU
|
Vitamin C:
1
mg
|
Calcium:
19
mg
|
Iron:
1
mg
Please follow and like us: