This is an easy and family friendly recipe for sweet potato gnocchis. It's super delicious and easy to make .
First of all I have to confess I love Italian cuisine. Every time I cook an italian dish I feel like I'm back on one of our road trips to Italy. So since we live in Austria, more precisely 1 driving hour away from the italian border, we could drive for "cappuccinis" or "espressis" to Italy for an afternoon. Sounds awesome right 😉 .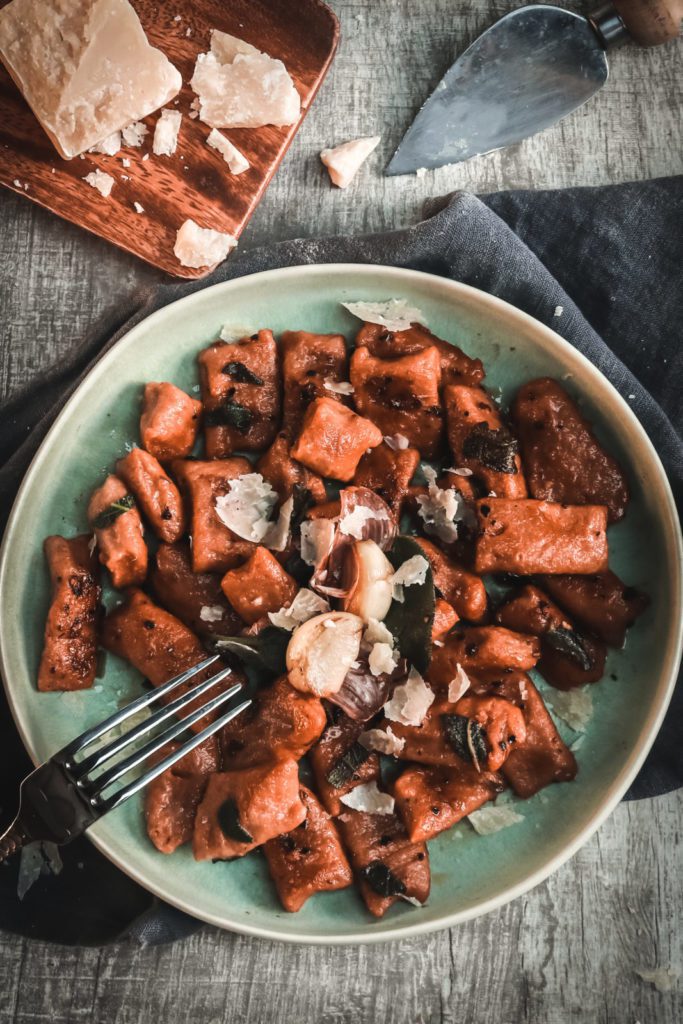 The best trip to Italy I've ever made was driving trough the Tuscany from vineyard to vineyard and buying wine and olive oil from every estate. And of course we had to try the wine before buying 😉 .
Before these sweet potato gnocchis came along I've never tried to make gnocchis before. I think the reason for that simply is that I always liked spaghetti and penne more. But everything changed with this incredible delicious recipe. The original recipe is courtesy to Half Baked Harvest. One of my favourite Food Bloggers. I just changed things up a little bit to fit it into to our healthy lifestyle.
Preparing gnocchis is not hard and it can actually be a fun family activity. My 2 kids love helping me in the kitchen therefore they have there own little aprons and they are great little helpers 🙂 .
Sweet Potato Gnocchis and how to start.
First of all we have to cook the sweet potatoes. I love to roast them in the oven but you could always broil them one by on in your microwave if you don't have much time.
After that we will have to skin the potatoes and mash the flesh. My baby girl really loves mashing things. She thinks it's hilarious 🙂 . I'm just thinking in these moments: Oh my god, I have to make a kitchen renovation after finishing cooking. My boy is more the hands on type of cook. As a result he did the shaping and cutting of the dough .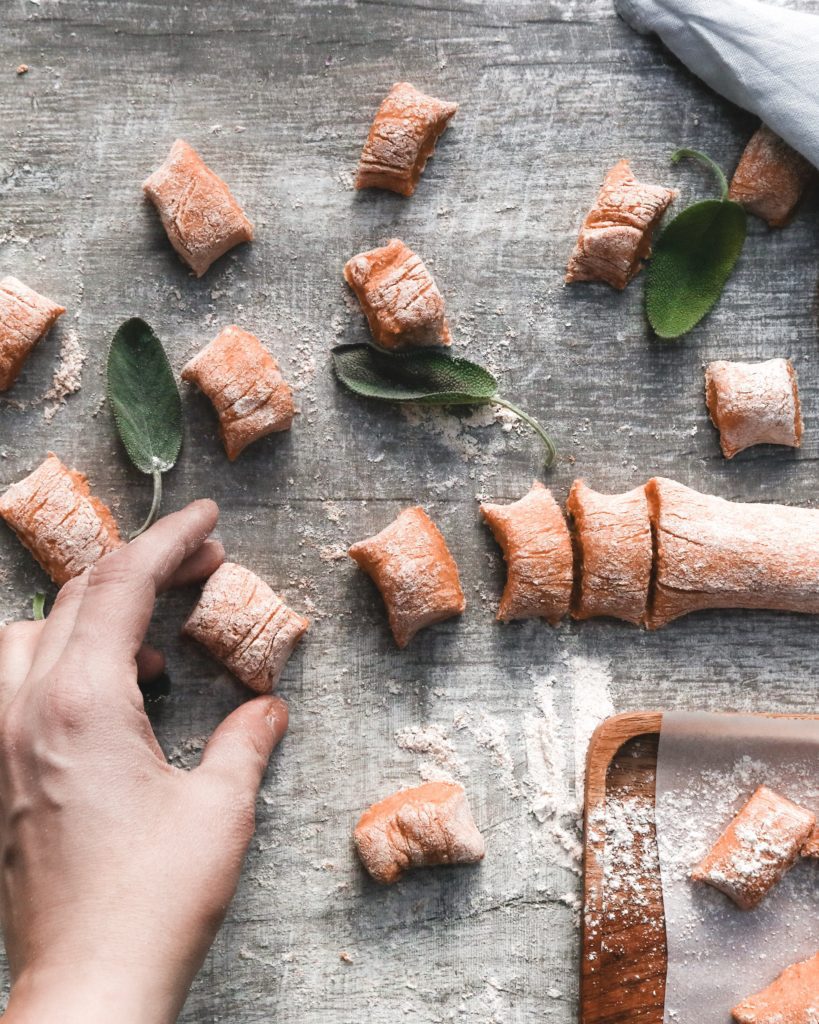 After mashing the potatoes we add only two cups of the spelt flour and all remaining ingredients into a medium bowl and put everything roughly together to a dough. If the dough is to sticky and wet just add more flour to the dough.
Sweet Potato Gnocchis – when the dough is ready.
Above all make sure there is enough flour on your working surface otherwise this gnocchi project will get a verrrry sticky mess 😉 .
Put the dough onto your working surface and cut it into 4 equal parts. Now would be a good moment for introducing the gnocchi business to your family and have the promised fun. Roll every part into a 1 inch thick roll and cut it into 1/2 inch thick gnocchis. When all the gnocchis are ready for boiling we will start with the aglio olio sauce.
Aglio Olio – the most basic traditional Italian sauce
Aglio olio is the most basic traditional italian sauce I know. If you have pasta, olive oil and garlic at hand you are good to go for cooking pasta aglio olio. The key to aglio olio is to slowly roast the garlic in the olive oil. My aglio olio sauce has some added ingredients because I like fresh sage and as a result I think it really enhances the taste of this classic sauce beautifully.
Heat the olive oil and butter and roast the smashed garlic gloves and red pepper flakes over medium heat until everything smells wonderful and the garlic is golden. Now we add the fresh sage leave strips and some sea salt and let everything sit at the side until the gnocchis are ready.
Finally put the gnocchi into the boiling water and make sure that the water is salted enough otherwise you will have very bland dumplings, which we don't want 😉 .Boil them for about 8 minutes and when they are ready, dump them directly from the pot into the sauce. Do some tossing and turning and lets everything sit for a couple of minutes so that the gnocchis can absorb all the delicious flavours of the oily goodness.
Serve the gnocchis with or without shredded parmesan and with the remaining sage strips.
I hope you liked my short excursion into the the italian cuisine and if you give those delicious dumplings a try please leave me a comment and make sure to tag us on social media @twosisterslivinglife . There is nothing more satisfying than people enjoying good food <3.
You may also like my authentic Italian Tiramisu cake.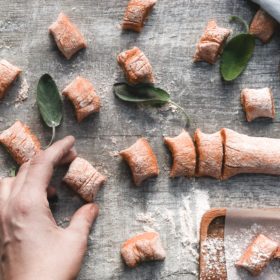 Healthy Sweet Potato Gnocchis served aglio olio
These are the best sweet potato gnocchis you will ever have. Made with wholesome spelled flour, sweet potato and cream cheese. An easy and healthy alternative to the original recipe and served italian style: aglio olio!

Print Pin Rate

Servings: 4

Calories: 1659kcal
Ingredients
Sweet potato gnocchis
2 sweet potatoes broiled and skinned
1/2 cup low fat cream cheese
1 egg
2-3 cups spelt flour
1 1/2 tsp Salt
1/4 tsp nutmeg freshly ground
Aglio olio sauce
1/4 cup olive oil extra vergin
2 gloves garlic smashed with peel
2 tbsp butter unsalted
1 tsp red pepper flakes
1/2 tsp sea salt
4 oz sage leaves fresh
4 oz Parmesan cheese freshly grated
Instructions
sweet potato gnocchi dough
First broil the sweet potatoes in the oven for about 30 minutes at 390F° or 200C° or in the microwave for about 7-10 minutes depending on your microwave. Let the broiled sweet potatoes cool slightly, skin the potatoes and purre the flesh.Put 2 cups of spelt flour and all the remaining ingredients for the gnocchis in a medium bowl and put them roughly together to a dough. If the dough is two wet work more flour into the dough.Put the dough on a floured surface and cut it into 4 pieces.Roll every piece into a 1 inch thick roll and cut it into 1/2 inch long gnocchi . Make sure that the surface is covered with enough flour otherwise the gnocchis will stick to the surface.Before boiling the gnocchis start with the sauce.You have to boil the gnocchis for about 8 minutes. Make sure that the water is enough salted. After boiling put the gnocchis straight from the boiling water into the sauce.
browned butter aglio olio sauce with fresh sage
Cut the fresh sage leaves into thin strips. take the whole garlic gloves and smash them 1 time with the bottom of a sturdy glass. the gloves should burst and split.Heat the olive oil and the butter in a medium pan over medium heat. Put all the sage strips save 2 tsp, the smashed garlic gloves with peel, red pepper flakes, and sea salt into the pan and roast everything until everything starts smelling deliciously.Throw the cooked gnocchis straight from the boiling water int the aglio olio sauce. Add half of the grated parmesan cheese to the pan toss and turn everything for 2-3 minutes.Serve immediately with the remaining parmesan and sage strips.Enjoy 🙂
Nutrition
Calories: 1659kcal | Carbohydrates: 167g | Protein: 53g | Fat: 82g | Saturated Fat: 32g | Cholesterol: 213mg | Sodium: 3644mg | Potassium: 716mg | Fiber: 29g | Sugar: 7g | Vitamin A: 20420IU | Vitamin C: 3.1mg | Calcium: 929mg | Iron: 13.4mg
Please follow and like us: