These homemade Granola Bars are the perfect treat for school kids, they will love them especially the chocolate on top! If you use dairy free chocolate it's even vegan too!
In Austria school starts again on Monday and for a lot of kids it's the beginning of a new chapter in their life! Like for Ninas daughter!
But for me it's slightly similar currently too, since I am going through some major life changes right now. But lets begin at the beginning of the year.
This year was a bit of a chaos and difficult for me. My new years resolution was to start really living again and getting in contact with old friends. Because of work and live getting inbetween I lost connections. And lets just say you could never have enough friends in your life and as an adult it's even more complicated. I wanted to live again by the saying "live your life to the fullest because you never know when it's over".
As you know Nina and I we started our blog in march. Since Ninas stroke nearly two years ago (thank god nothing serious happened) we've always thought about the idea of having a food blog because we wanted to do something for us which we enjoy. So that's basically why we started our little adventure called twosisterslivinglife. It's not about the money we could earn or getting famous in the food blogger scene, no for us it's all about our love for food, using our creativity and getting to share it all with a wonderful community. And we are very thankful for all the friends we've made ever since.
Some say we surely have a background in photography or something similar..
but if I tell you that Nina used a camera for the first time last november would you believe me? Because it is a 100% true! We just set the bar for the quality of our pictures so high that we don't share anything less in quality with you. We work and learn everyday to get better at what we do! And for us it's important to take pictures all the time every day, because only through progress, revise and looking at our pictures and thinking what we can do better, we learn.
In april I've moved across town from one end of Graz to basically the other end with my dog Nala. It was really exhausting. I hate moving but it was all worth it. I love my new condo, it's only 8 minutes away by foot from work and not one hour by car like before.
And now after 6 years I broke up with my boyfriend. He was my high school sweetheart and one of the nicest and greatest I've ever known but sadly life got in between. You know the feeling when you lost the spark, the butterflies in your tummy, the love? Sadly thats happened to us. I just want to tell everybody never let life get in between make time for your better half, go out, do things together and that means not only the cozy times between the sheets. And always speak to each other about everything because if you have nothing to talk about you need to think about whats wrong. Sadly thats why I love him only as a friend anymore and not romantically. I am really sorry.
Now my life is at a turning point. Lets just see for now what life has in store for me:)
Let's get back to my Granola Bars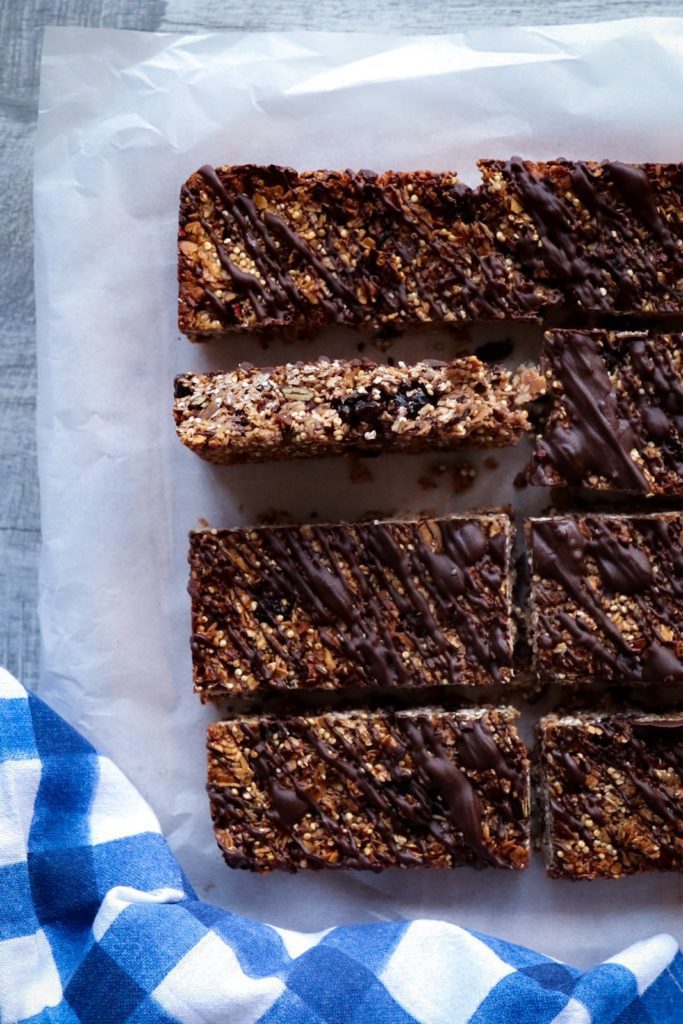 How to make these delicious, healthy and vegan Granola Bars
First you need to toast the oats, quinoa and the nuts and pumpkin seeds in the oven.
Then mix the banana, almond butter and the maple syrup to a finely mashed purée.
Combine everything and press into prepared baking dish. Bake for 25 minutes.
Let it cool, pour/drizzle the chocolate on top of it. Make sure before cutting that the chocolate is cooled completely!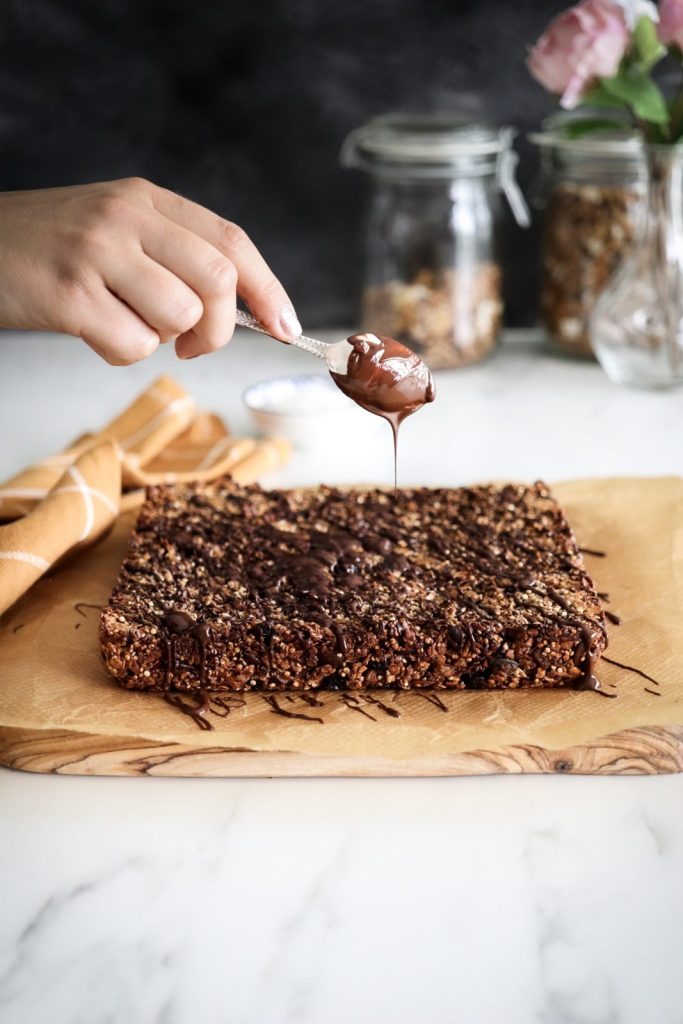 Voila, finished is this healthy goodness! And it's so much yummier than the store bought granola bars and soooo much healthier since their is no refined sugar!
Did you make this recipe? Great tag us on Instagram @twosisterslivinglife or use our hashtag #twosisterslivinglife so we can see.
Love, Antonia
Healthy Granola Bars
These homemade Granola Bars are the perfect treat for school kids, they will love them especially the chocolate on top! If you use dairy free chocolate it's even vegan too!
Print
Pin
Rate
Ingredients
1/2

cup

quinoa

uncooked

2

cup

oats

1/4

cup

pecans

chopped

1/4

cup

pumpkin seeds

1/4

cup

almonds

slivered

1

banana

1/2

cup

maple syrup

1/4

cup

almond butter

1/2

cup

Desiccated coconut

1/2

cup

cranberries

dried

1

tsp

vanilla extract

1/4

cup

cocoa nibs

1/2

teaspoon

salt

1/4

cup

chocolate

2

tbsp

chia seeds
Instructions
Preheat the oven to 180°C and prepare a baking form 20x20cm with parchment paper

Toast the quinoa and the oats in the oven for 10 minutes

Toast the chopped pecans, pumpkin seeds and almonds in the oven for 8 minutes

Put the banana, maple syrup and almond butter in a high speed mixer.

Combine the toasted oats, nuts, banana purree with the coconut, cranberries, vanilla extract, cocoa nibs and salt

Pour everything into the prepared baking form and press the mixture into the form.

Let it cool and pour/drizzle the chocolate on top of it.

Keep them in the fridge and they are good to eat for at least a week.
Nutrition
Calories:
377
kcal
|
Carbohydrates:
47
g
|
Protein:
9
g
|
Fat:
19
g
|
Saturated Fat:
7
g
|
Sodium:
153
mg
|
Potassium:
400
mg
|
Fiber:
7
g
|
Sugar:
18
g
|
Vitamin A:
9
IU
|
Vitamin C:
2
mg
|
Calcium:
81
mg
|
Iron:
2
mg
If you liked this recipe, you will definitely love this baked oatmeal! Best breakfast to prepare the day before!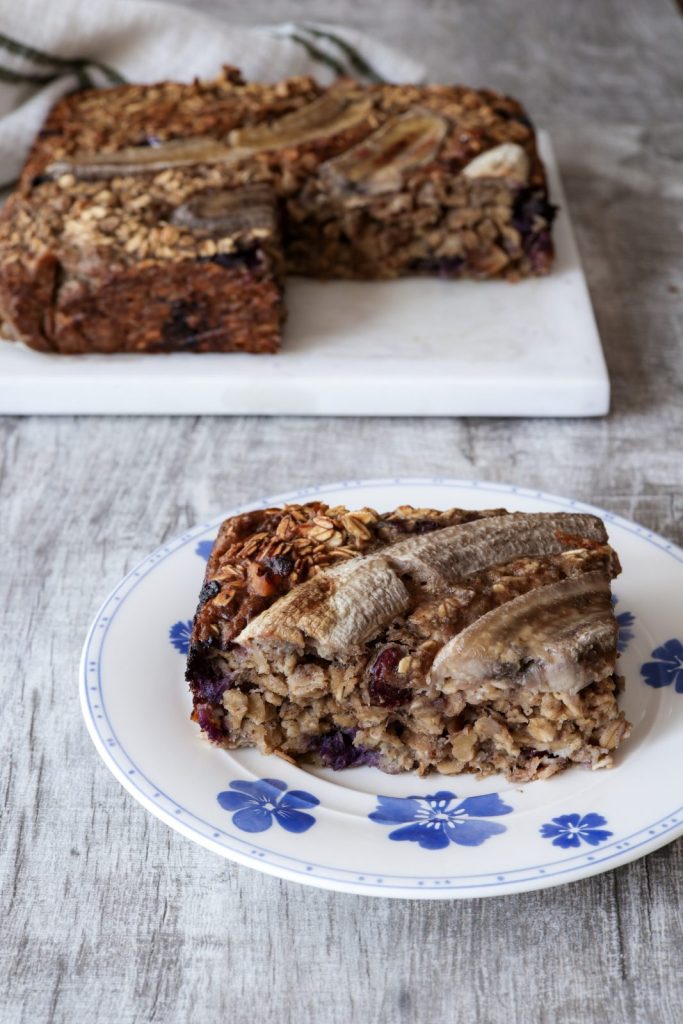 Please follow and like us: