Here is an easy and fun project for the weekend. Create your own backdrop for food photography and the best thing you can make it a family project! My kids loved helping me create my own backdrops and we really had some good quality time 🙂 .
First of all: I love food photography! There is nothing more relaxing and focusing for me than set up my backdrop and props and manipulate the light as best as possible. Since I'm shooting on my balcony there is quiet some manipulation to do 😉 .
You don't need many things for creating your own backdrop:
A plywood board 70cm x 100cm x 0,8cm thickness (that's about 2,3ft x 3,3ft x 5/16"thickness)
Joint compound and a putty knife, for creating structure
Tester or sampler size pots of matte wall color paints, you should at least have 3 shades from the same color
I took my project outside since I did work with joint compound, paint and two kids 😉 . Next time I would not work on concrete but rather in the gras. It's easier to get rid of all the stains.
So how do we start?!?
First we take the joint compound and the putty knife and scoop some of the compound onto the plywood surface and apply it onto the whole surface. There are several different approaches how to apply it. You can apply it in long straight strokes and disrupt everything ever so often so that it still feels organic or you can apply it in criss crosses with more raised textured parts. Be careful you still want to put plates and glasses on it and don't want everything to be wobbly and shaky.
As I already said I really enjoyed creating my own backdrop. I think one of the benefits was that covering the surface with compound calmed myself as much as being on a weekend vacation without my kids. All moms know what I mean right 😉 ?!?
After covering everything with joint compound and adding the first layer of character to our board, we leave it for trying 24 hours.
Here comes the creative part: choosing colours and painting our backdrop
After the Board tried for 24 hours we start with the painting. So far I made 6 boards and yes I painted one only white and it is one of my favourites when it comes to giving my food a light and airy feeling. There is nothing better than a really white background or surface with a concrete structure.
But we wanna talk about colours right? If you want to create a light and bright board there should absolutely be white included. Other great colours which work really well are shades of grey and blue which really lets your food pop . But you know if you feel like it's a pink kind of day than let's do a board with pink or maybe her pastel sister who has a nice blush ;-).
Good colour choices are neutral colours, pastel or pale colours. Use cooler colours, they will always let your food stand out. Combine light and dark colours it makes everything more interesting therefore always use some white.
In generally it is fairly easy to apply your colours to the board. Put a small amount from each colour in the middle of your board and blend it through dabbing with your blending brush or sponge but be careful don't over mix it.
It is good to work from the middle to the outer sides. Above all don't use too much paint just enough to cover the surface. If you think in the end that there needs to be some highlights here and there? No problem, just go over the spots which you want to be highlighted, again.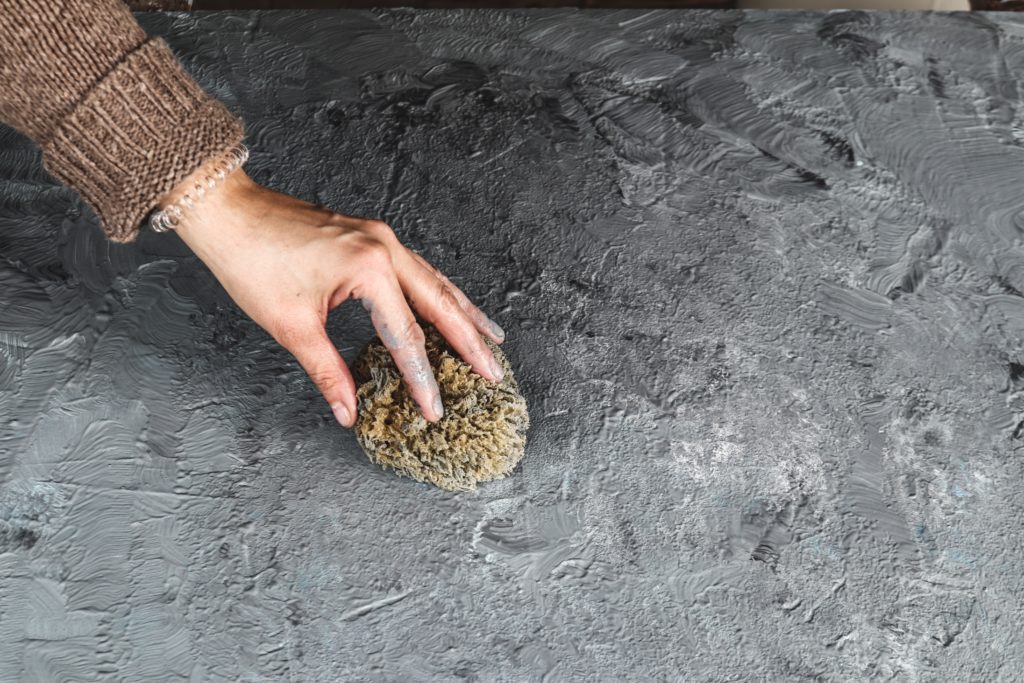 Some good advice!
I highlighted one of my dark boards with some simple strokes with the blending brush dabbed in some white colour. There are no boundaries to your imagination so just go for it and maybe it leads you to some very incredible backgrounds or surfaces. Please keep in mind that it is a BACKdrop so not the backdrop or the surface should stand in the spotlight but your food.
Let the board try for 24 hours again. I left them outside, so it just needed half the time to try.
For the finishing I covered it with a layer of matte finishing spray. I put an extra layer on the middle where the food will normally be.
I hope I could encourage you to your next project and if you have kids include them. You will all have a great time. Promised!
We would be very happy if you showed us your work in tagging us @twosisterslivinglife ! There is nothing better than seeing how great others do with something we gave them courage too.
Love Nina
foodbackdrops made by me

used my own backdrops

used my own backdrops
Please follow and like us: